IONIQ 6
Test drive the World Car of the Year.
The new era of electric.
A streamlined design takes you further. A cabin that doubles as a workspace. Lights that enhance your mood. The power of our imagination has taken us further than ever before, now officially recognised as 2023 World Car of the Year, World Electric Vehicle and World Car Design of the Year.
Highlights.
Long 614km of range[P1], with ultra-fast charging.
The longer-range EV. Enjoy more time between charges with up to 614km in IONIQ 6's DYNAMIQ variant, and enjoy the convenience of 10% - 80% charge in 18 minutes[C1]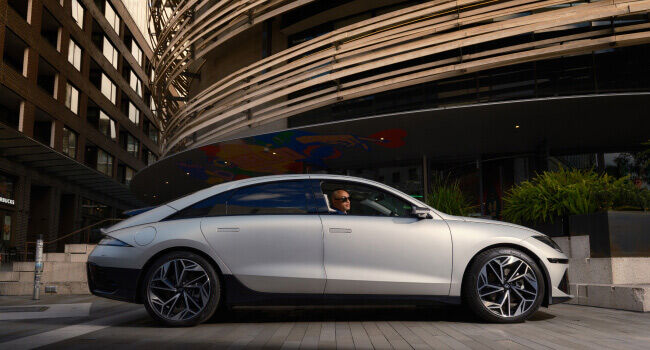 A masterpiece in aerodynamics.
The award-winning single-arc design creates Hyundai's lowest drag coefficient yet, maximising efficiency and performance.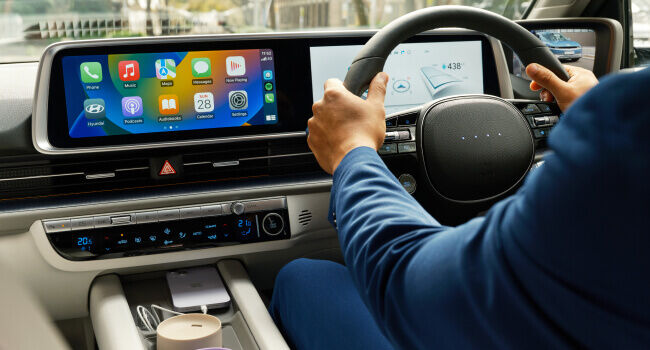 Dynamic driving with 239kW.
Efficiency that exhilarates. With impressive aerodynamics, low centre of gravity, and instant acceleration, the IONIQ 6 reimagines the EV driving experience. 239kW on TECHNIQ and EPIQ variants only.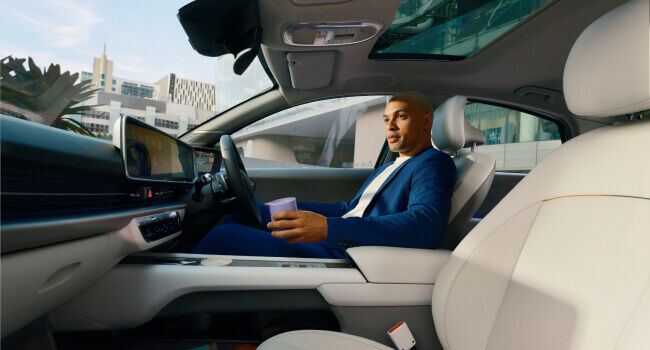 Mindfully designed.
For your world, and the entire world. The futuristic cabin is a benchmark in sustainability, spaciousness, and personal refinement - where even the interior ambient lighting can reflect the driver's preferences.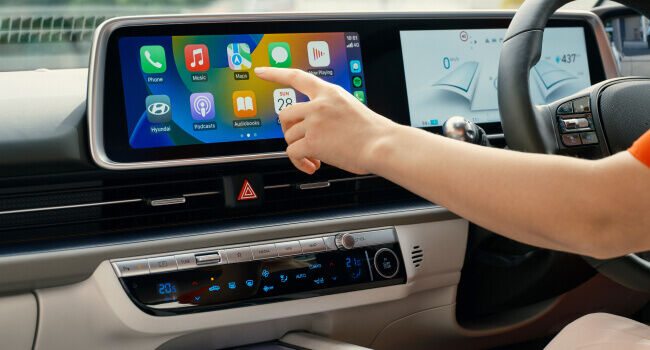 Advanced new technologies.
The future is now. IONIQ 6 is a blueprint for tomorrow with advanced connected technologies, smart safety features, AI, Over-The-Air software updates and more.
More than aerodynamic. A streamliner.
Designed like a wing of an aeroplane, meet the winner of the 2023 World Car Design ofthe Year. The IONIQ 6 is designed to slip through the air, leaving you to enjoy the glide.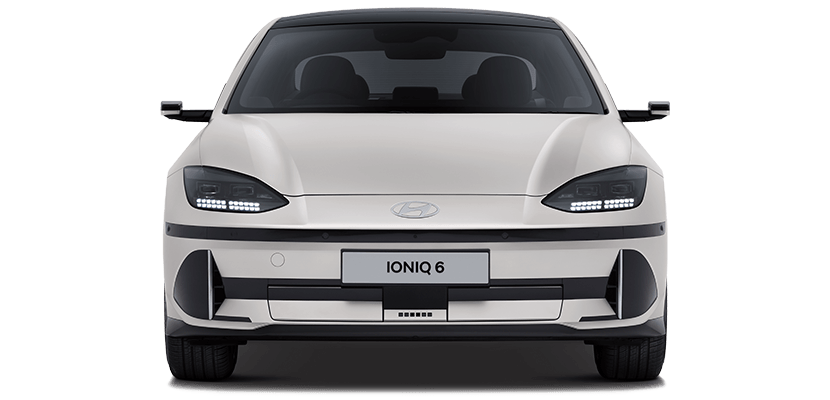 Intelligent front-lighting system.
The IONIQ 6 can intelligently adapt the LED high beam lights to reduce glare for oncoming traffic, whilst keeping other areas bright, so lights don't have to be adjusted manually.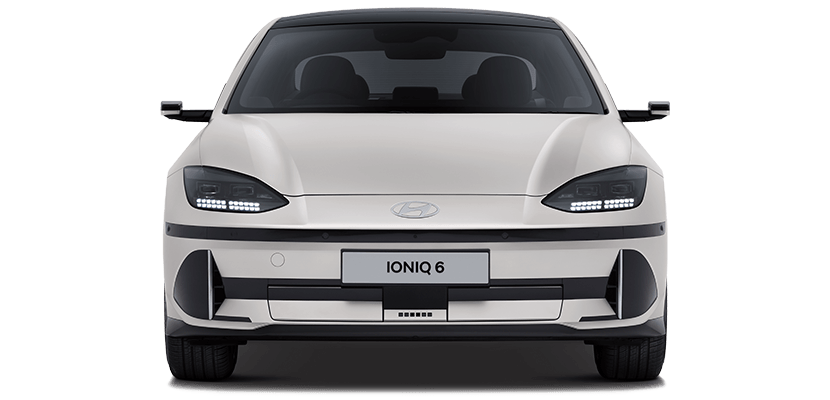 Parametric pixel LED headlights.
A futuristic 6-pixel pattern in the LED headlights creates a unique signature light show when indicating.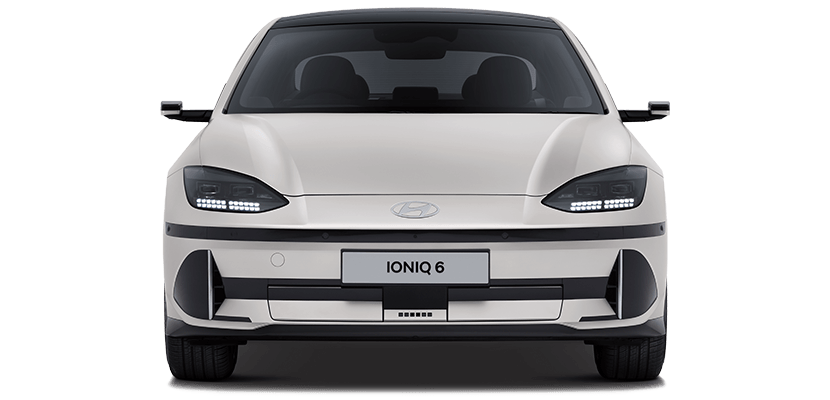 Air curtain.
Streamlined frontal air intake openings airflow to enhance aerodynamic performance.

Streamlined silhouette.
Inspired by nature, and smooth curves of perfectly weathered stone, the innovative streamlined design is both beautiful and aerodynamic.

Auto flush door handles.
Sleek exterior lines are further enhanced with flush-fitting door handles which pop-out automatically when unlocked.

Aerodynamic wheels.
The DYNAMIQ model features 18" aero wheels and TECHNIQ/EPIQ variants have 20" wheels. The aerodynamic aesthetics of both styles further enhance the sleek lines and parametric dynamics of IONIQ 6.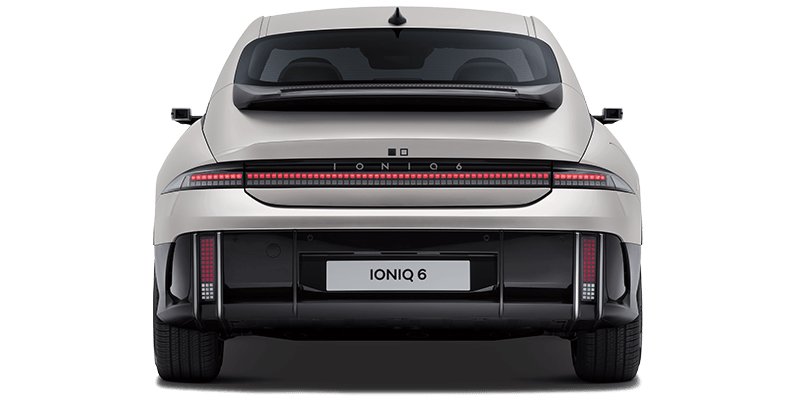 Parametric Pixel LED rear lighting.
Parametric Pixel lighting extends laterally across the rear reflector and backup light as a further compliment to unique headlight design.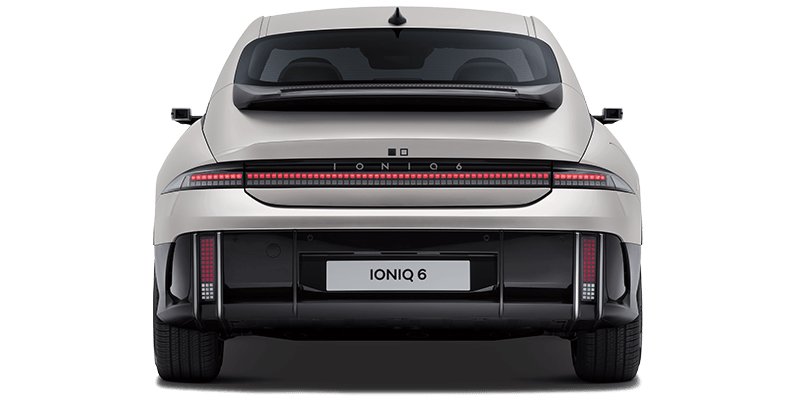 Aerodynamic rear spoiler.
The sculpted rear spoiler enhances aerodynamic performance.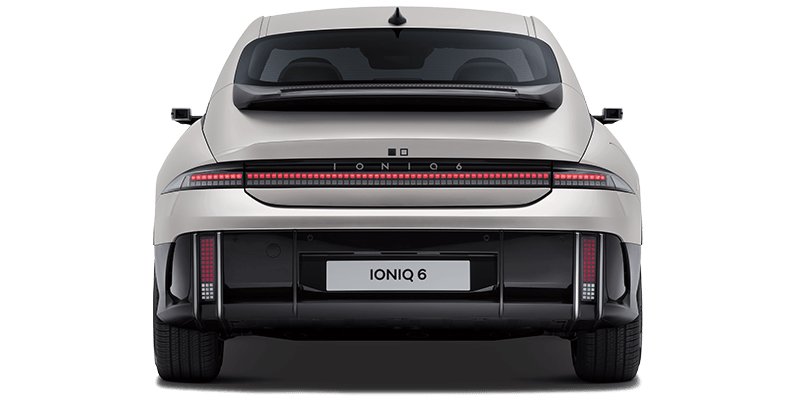 High mounted stop lamp.
Parametric Pixels lighting and see-through casing produce a feeling of space and depth.
More than an interior. A sanctuary.
The spacious cocoon-like interior serves to both replenish and restore. Choose interior mood lighting from a spectrum of 64 colours and six dual colour themes helping you feel relaxed and comfortable.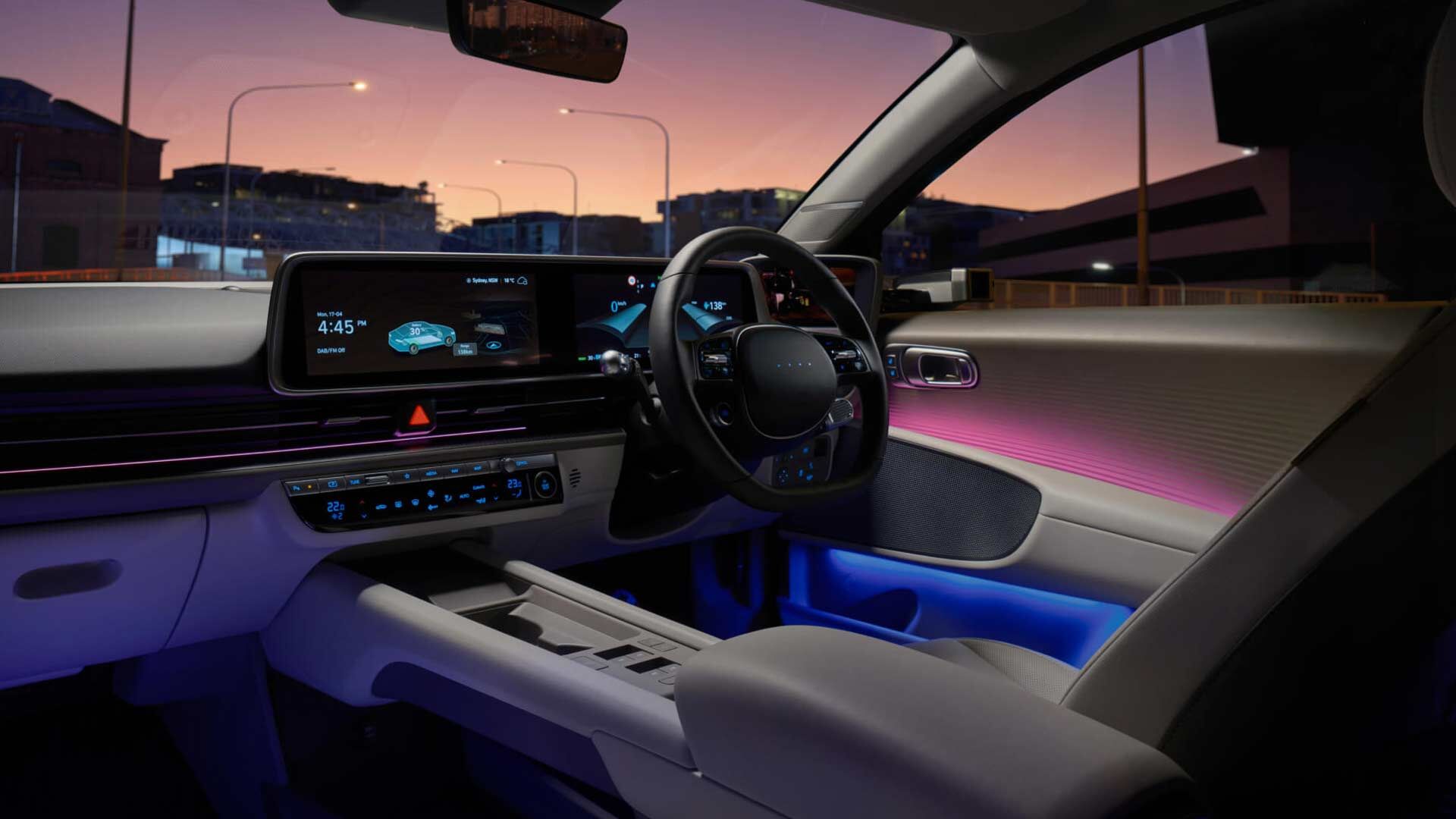 Interior Design.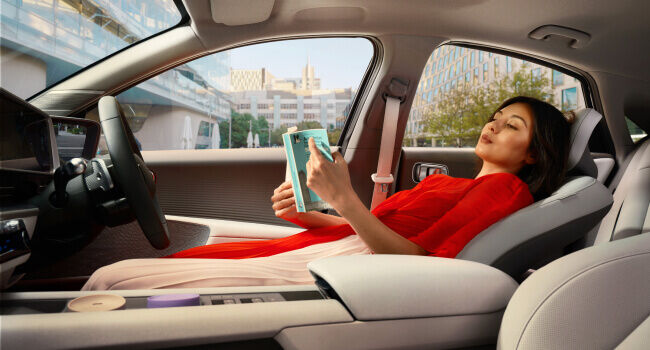 Spaciousness redefined.
Hyundai's electric dedicated platform creates an exceptionally spacious interior where the front seats fully recline to a zero-gravity relaxation mode, offering passengers expansive comfort.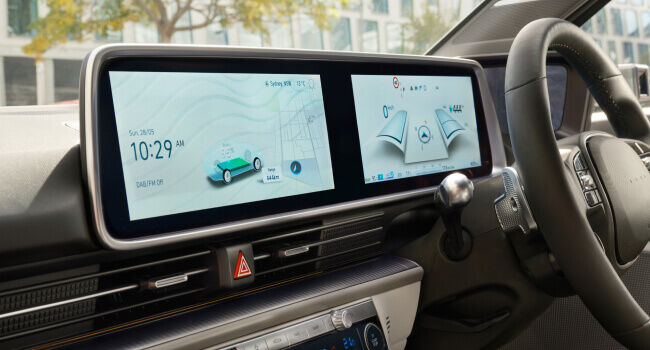 Integrated cluster and infotainment display.
Dual 12.3" displays integrate both infotainment and digital data clusters for a widescreen view of all essential information.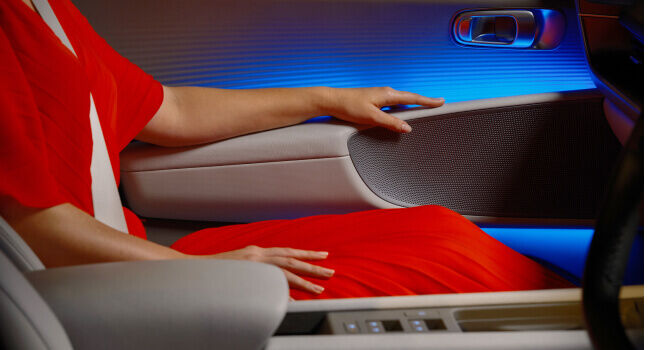 Speed sensitive ambient mood lighting.
Imagine a vehicle so in tune with the driver, its ambient mood lighting can adapt to the driver's speed. Adjust a spectrum of dual-colour themes to suit your mood and desired ambiance.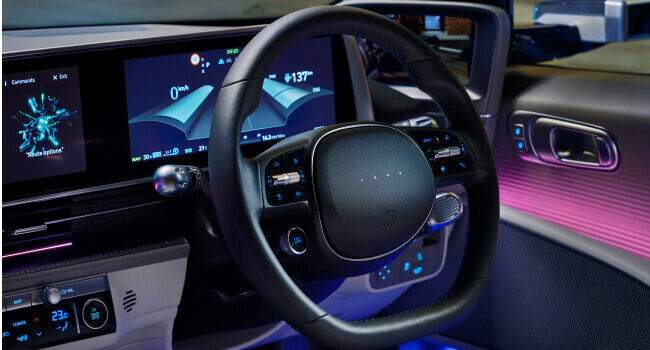 Interactive pixel lights.
4-dot interactive pixel lights on the steering wheel can respond to voice command for easy communication between the driver and vehicle. It also represents the letter "H" in morse code.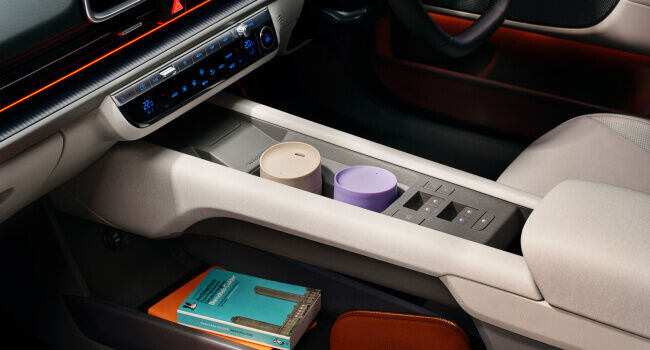 Bridge-type high centre console.
Intelligent spatial design offers added convenience solutions including multiple storage options.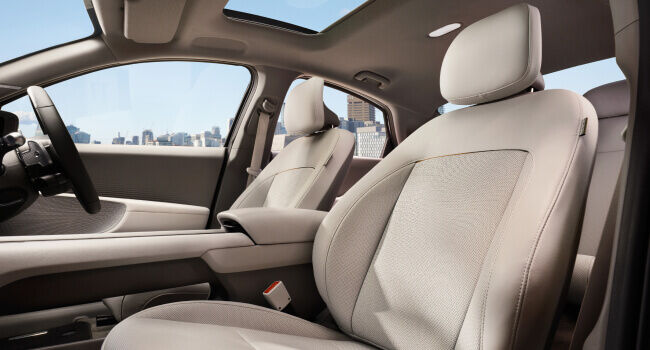 Slimline interior design.
Space-enhancing design features include elegant slimline seats, transparent accents, and refined styling.
More than innovation. Progress.
Enjoy peace of mind with up to 614km of range. Find a drive mode that suits your sensibilities. Experience a drive with clear perspective with Digital Side Mirrors. Charge from 10-80% in 18 minutes[C1]. This is driving, but not as you know it.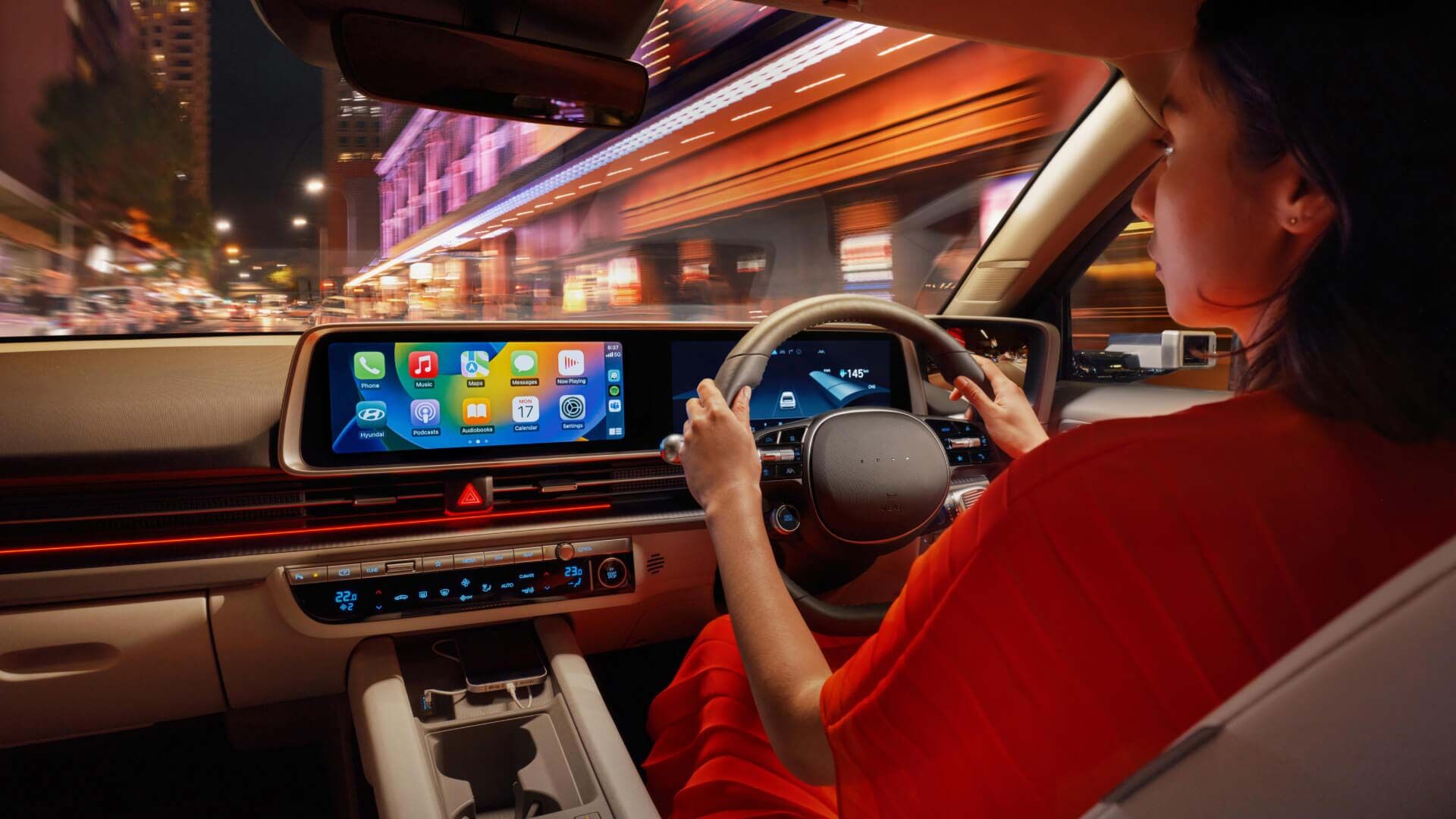 Technology.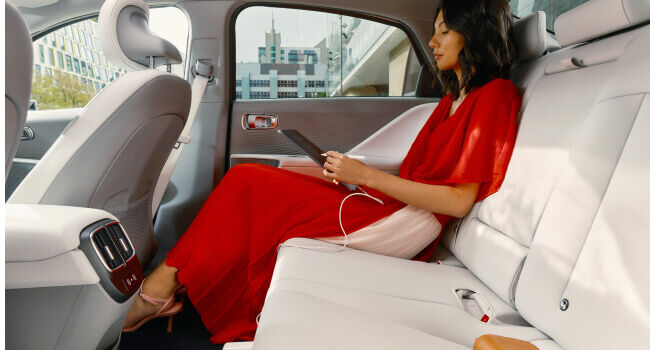 Interior & exterior Vehicle to Load (V2L).
IONIQ 6 is a portable power source with 250V power outlets both inside and outside to energise your lifestyle by charging anything from laptops to e-bikes and more.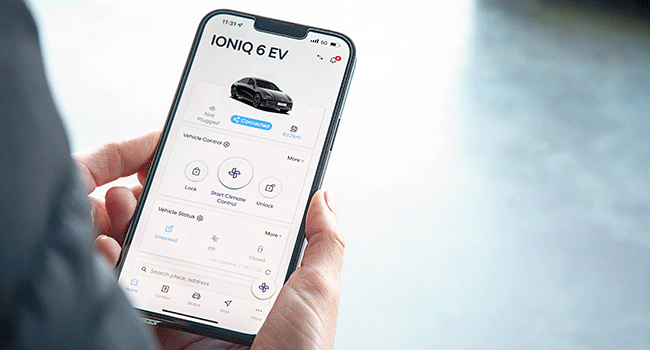 Bluelink™[P3].
The Hyundai Bluelink™[P3] app lets you access operational features remotely, such as locking, air-con, and locating your car, all from your smartphone[P3]. Special features for EVs include scheduling charge times, finding the nearest charging stations, and remote viewing of charging status.
Over-The-Air software updates.
Over-the-air updates of controller software means the IONIQ 6's systems can be upgraded to latest versions without visiting a service centre.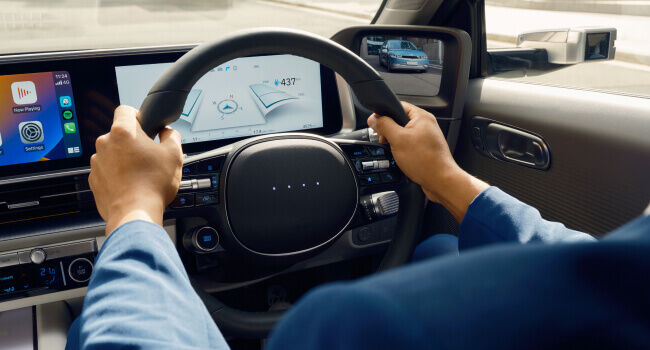 Digital Side Mirrors & Integrated dashboard.[P2]
High resolution cameras and vibrant infinite contrast OLED screens provide a clearer, wider view than conventional side mirrors. Only available in EPIQ variant.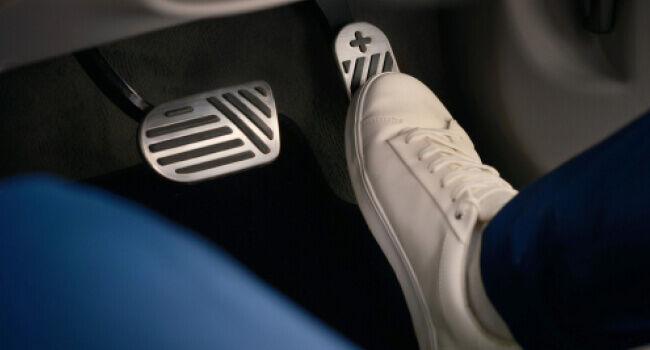 i-Pedal mode.
i-Pedal mode allows for intuitive one-pedal driving that can slow/stop the car without engaging the mechanical brakes, creating more regenerative power.
More than a fabric. A second life.
The IONIQ 6 isn't just inspired by the environment. It's made from it. For the lifestyle of tomorrow, drive more than a car. Drive the 2023 Green Car of the Year.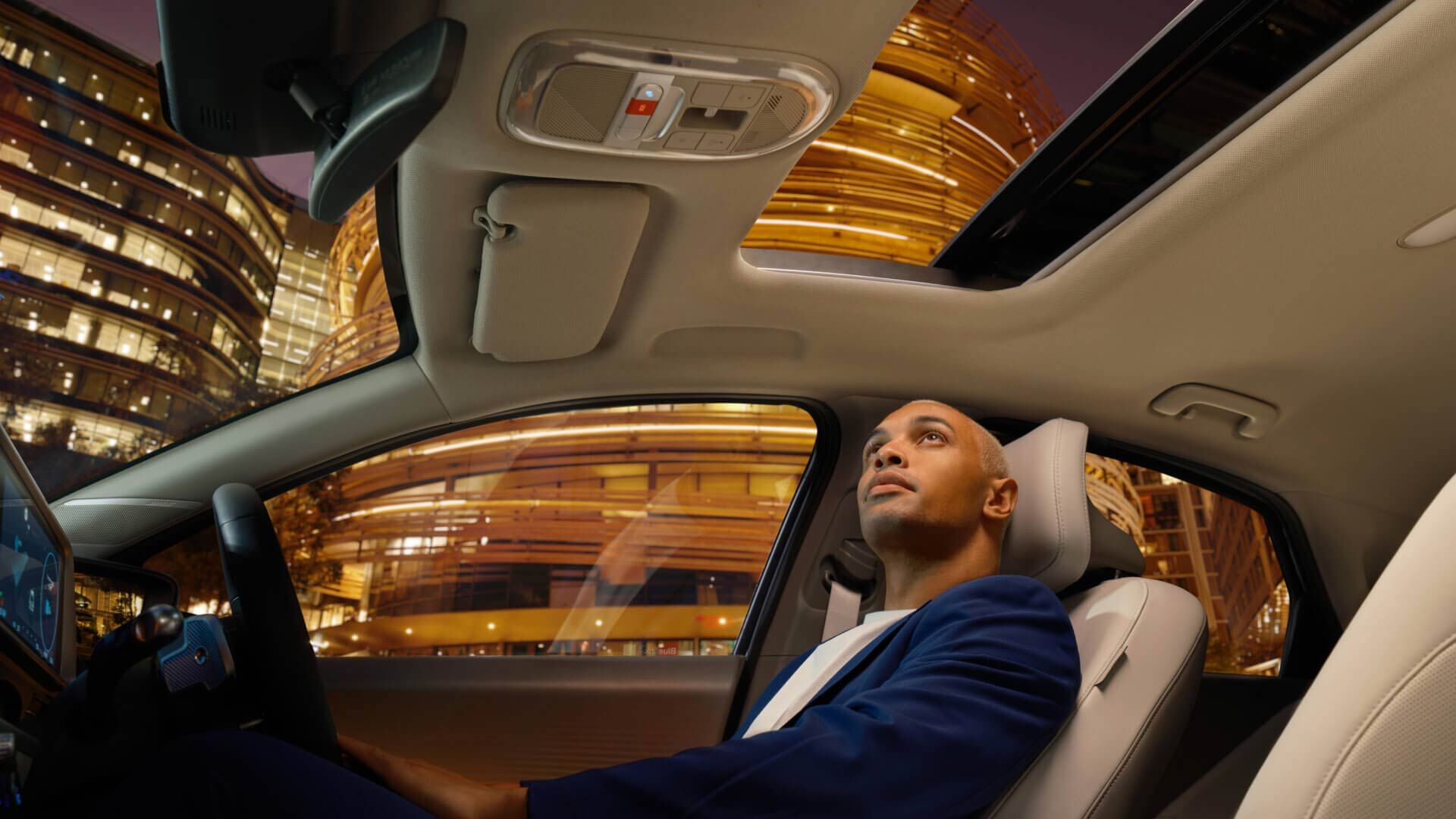 Sustainability.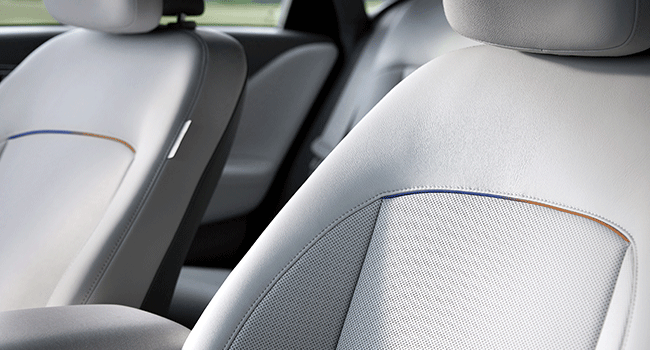 Eco-processed genuine leather.
Flaxseed oil extract has been used in the leather dyeing process to reduce environmental impact[P5].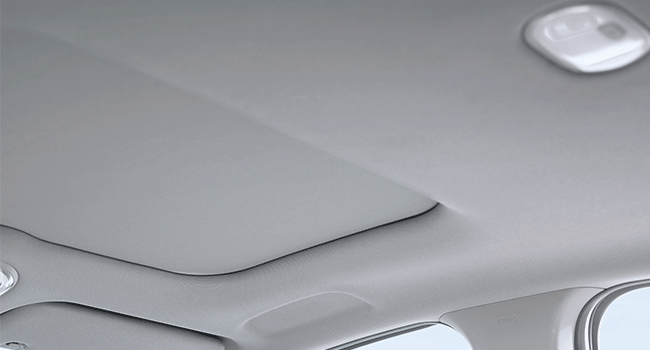 Recycled and bio-material fabrics.
More sustainable[P6] fabrics and yarns have been used throughout IONIQ 6, including sugarcane-derived thread in the head lining.
Bio paint.
Door trims are coated in a special bio-paint[P7] made with rapeseed flowers and corn extracts.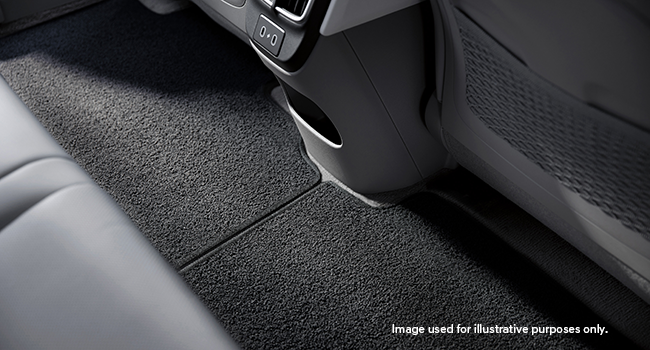 Recycled fishing-net carpets and car mats.
A first for the IONIQ range, fishing nets have been recycled into soft yarn for use in carpets and car mats[P8].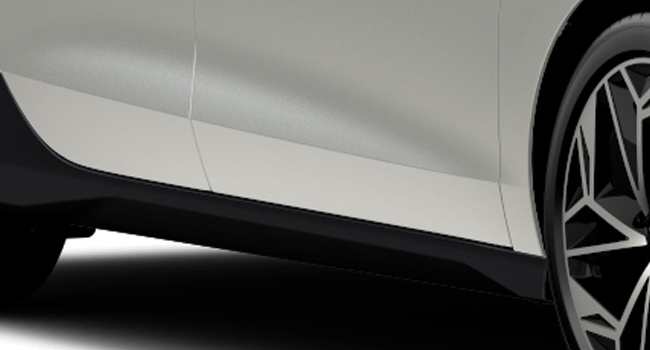 Recycled pigment paint.
Black carbon pigment derived from old tyres is mixed with polyurethane for more sustainable[P9] lower bumper and side mouldings.
More than safety features. An obsession.
Hyundai SmartSense®[S] is a hyper connected suite of safety systems that intuitively detect what's in front, behind and beside you. You've never felt peace of mind like this.
Safety First[S].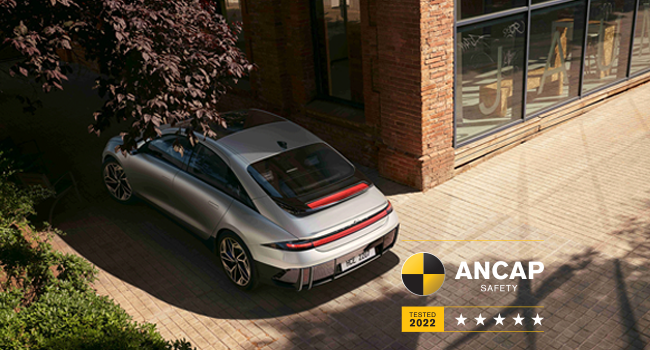 5 star ANCAP rating.
Hyundai's commitment to safety has seen IONIQ 6 achieve the maximum five-star ANCAP rating in the 'Medium Car' category, excelling in the 'Adult Occupant Protection', 'Child Occupant Protection', and 'Safety Assist' categories.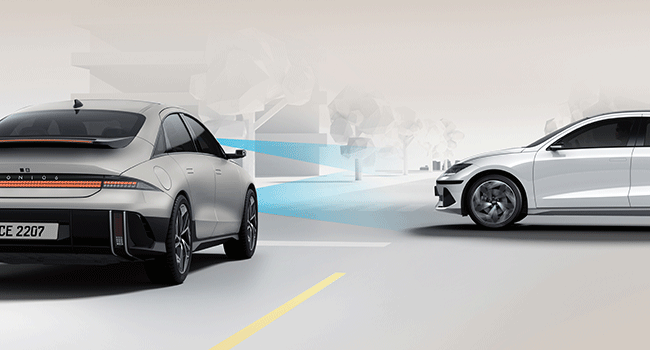 Hyundai SmartSense®[S].
The IONIQ 6 offers next level warning, driver assist, and smart avoidance systems, including Forward Collision-Avoidance Assist with new direct oncoming feature, Blind-Spot Collision Avoidance-Assist, Intelligent Speed Limit Assist, Lane Following Assist – Line/Road – Edge, and Safe Exit Warning.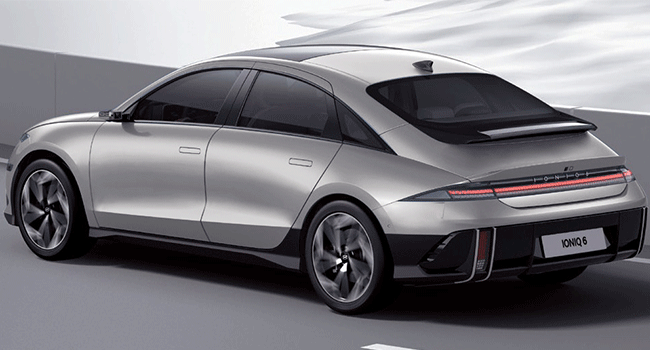 Smart Cruise Control[S].
Smart Cruise Control can intelligently operate based on the driver's driving style using machine learning. It can keep you at a set distance from the vehicle in front, slowing and stopping as it does, and can prompt the driver to start accelerating again when the vehicle in front drives off.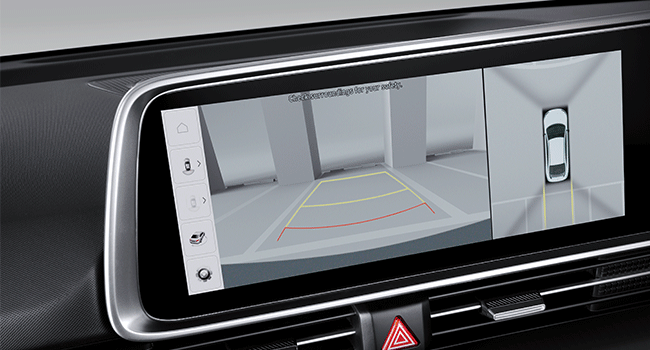 Rear and Surround View Monitors[S].
The 12.3" monitor displays the rear view from your vehicle while driving, and can display a view of surroundings to make parking easier.
Remote Smart Parking Assist[S1].
Parking in tight spaces is as easy as standing near your IONIQ 6 and using the key to enable the vehicle to manoeuvre in or out of the space for you.
Awards.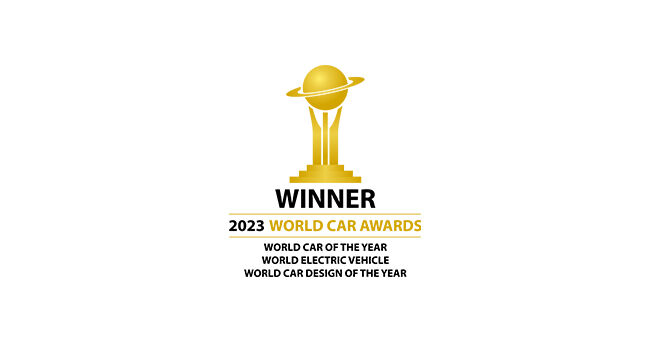 World Car Awards – IONIQ 6 World Car of the Year, World Electric Vehicle & World Car Design of the Year
"Hyundai Motor Company's acclaimed IONIQ 6 Electrified Streamliner has won the prestigious World Car of the Year, World Electric Vehicle and World Car Design of the Year, lauded by an international jury for its unique aerodynamic design and outstanding all-electric range."
See the Hyundai Press Release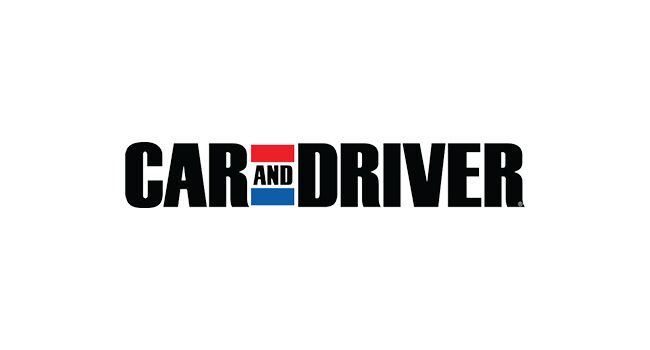 Car and Driver – EV of the Year
"The 2023 Hyundai IONIQ 6 earned Car and Driver's EV of the Year award, adding another coveted honour to its trophy case. This marks the second year in a row that Hyundai has won Car and Driver's EV of the Year award with the IONIQ 5 winning in 2022."
See the Hyundai Press Release
Hyundai iCare.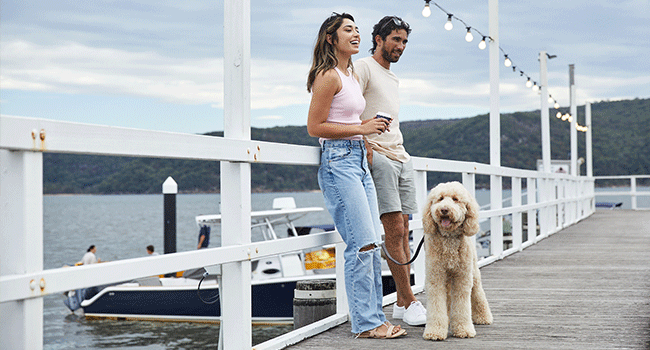 5 year vehicle warranty[B1][H1].
Along with an 8-year high voltage battery warranty[B1] so you can travel in confidence without keeping an eye on the odometer.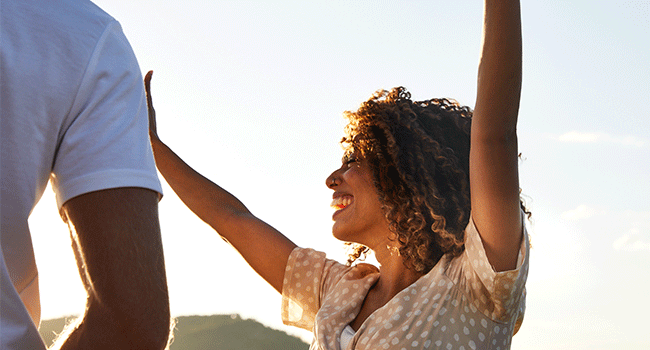 Lifetime service plan[H2].
Know in advance the maximum cost for scheduled services and ensure the best possible on-road performance with regular servicing by factory-trained Hyundai technicians.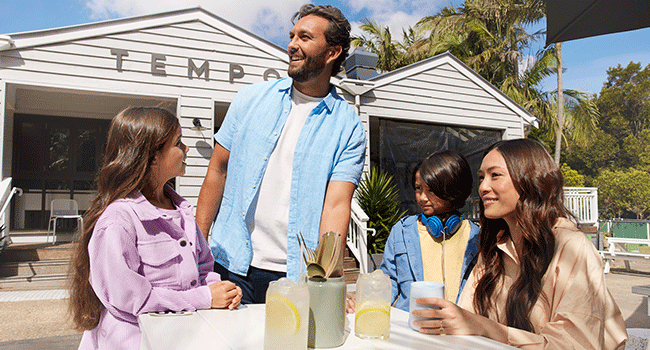 Premium roadside support plan[H3].
Included for the first 24 months for the IONIQ 6. This is extended for the corresponding interval each time you complete a scheduled service at an authorised Hyundai Service Centre. Available for the Lifetime of your vehicle when you continue to service with us.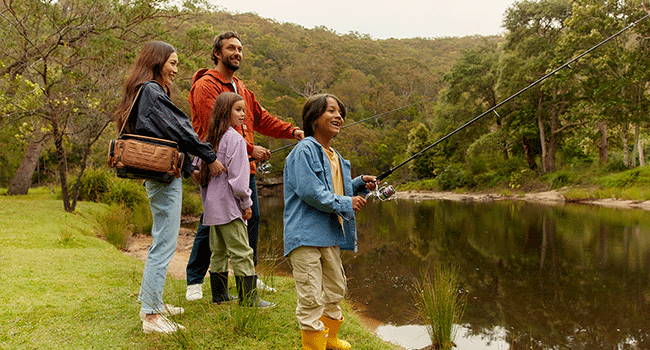 Sat nav update plan.
Receive up to 10 years of map updates when you complete your scheduled services at an authorised Hyundai Service Centre.
Accessories.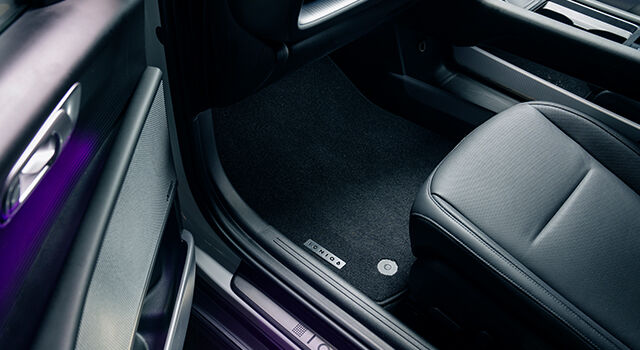 Tailored carpet floor mats.
Protect the interior of your IONIQ 6 with a set of black tailored floor mats. Complete set comes as standard including front and rear mats (set of four).
Parts Number: KLA20APH00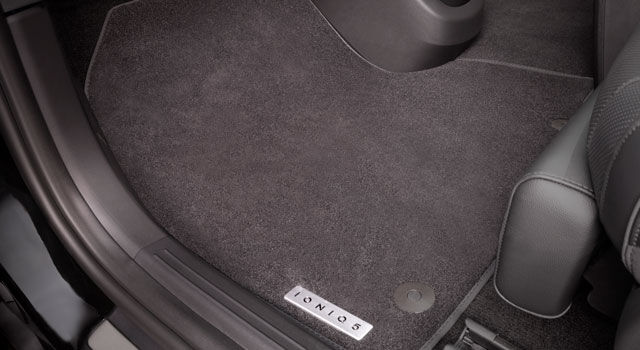 Tow bar kit[C5].
Designed and engineered for the IONIQ 6 EV towing capabilities, this towbar kit provides a towing capacity of 1,500kg (braked) and 100kg tow ball download.
RRP $1,590
Price includes GST.
Parts Number: KLA04APH00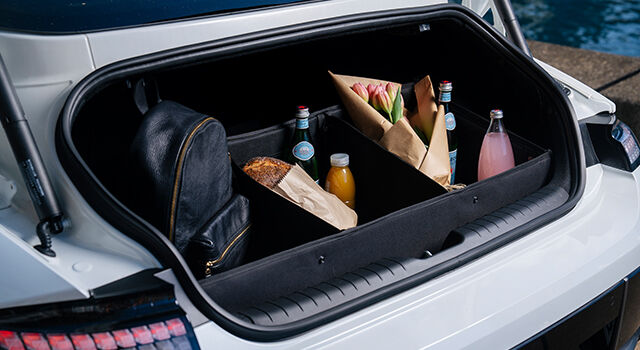 Luxury cargo organiser.
Keep all your gear or groceries secure with this durable luxury cargo organiser. Mounting clips and velcro strips keep everything in place, and when it's time to unload, simply unclip and unpack. It folds flat for easy storage.
RRP $195
Price includes GST and fitment.
Parts Number: C0A90APH00
Bonnet protector | Dark tint.
Keep your streamliner safe from stone-chips with this bonnet protector.
RRP $349
Price includes GST.
Parts Number: KLH24AP000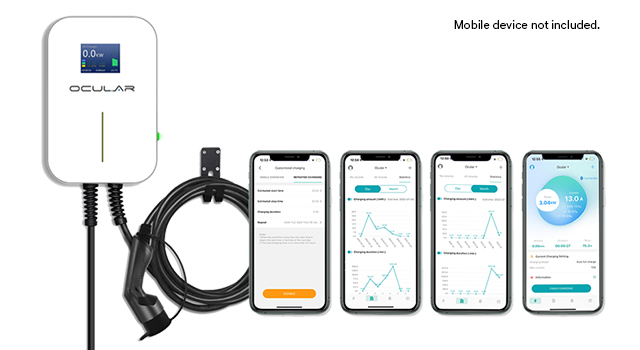 LTE Plus (1-phase).
The Ocular LTE Plus puts you in charge with a Bluetooth App[B2]& colourful LCD display, showing charging time, voltage, current internal temperature and more.Maximum output 7.4kW (1P)[C4].
RRP $1.180[C2].
Price includes GST.
Parts Number: OC20-BC-7.2KW-Plus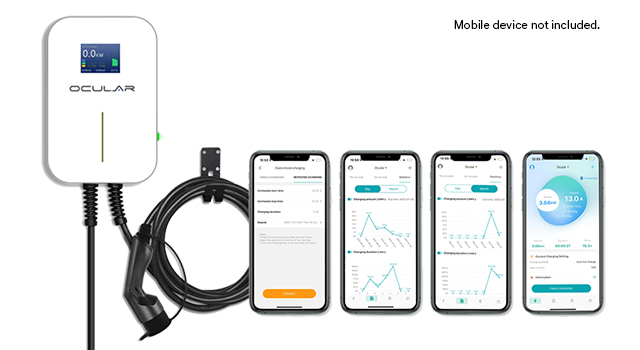 LTE Plus (3-phase).
The Ocular LTE Plus puts you in charge with a Bluetooth App[B2] & colourful LCD display, showing charging time, voltage, current internal temperature and more.Maximum output 22kW (3P)[C4].
RRP $1,425[C2].
Price includes GST.
Parts Number: OC20-BC-22KW-Plus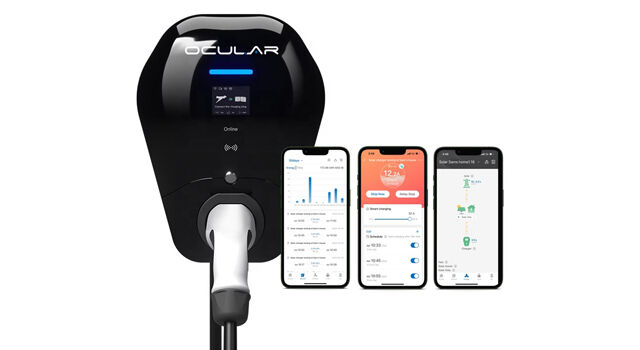 IQ Solar Charger (1-phase).
The IQ Solar Charger allows you to charge your car using single phase grid supply or energy generated from your Solar PV. Available with a mobile app[B2] that gives you control of all aspects of your EV charging right in the palm of your hand.Max. Output: 7.2kw (1P)[C4].
RRP $1,769[C2].
Price includes GST.
Parts Number: IOCAW13-7T-Solar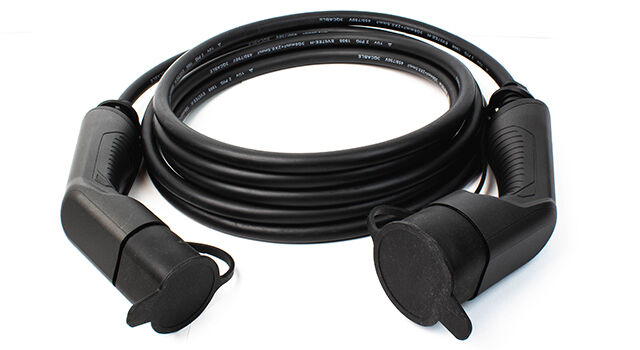 Type 2 to type 2 public charging cable[C3].
Type 2 to type 2 EV Cable to connect your IONIQ 6 with a public AC charging station that requires you to BYO charging cable. The 5m cable is easily coiled to be stored in your car. Compatible with single phase and three phase charging stations.
RRP $230.
Price includes GST.
Parts Number: OC-CHC004-5M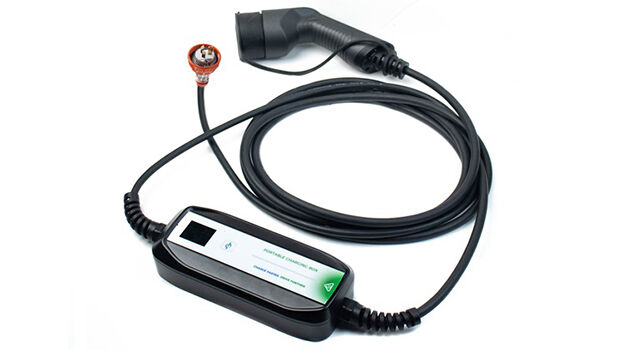 Portable 15amp charging cable – Type 2 to 3 pin[C3].
Portable Type 2 15A EV cable with Australian 3 pin plug allows you to charge your electric vehicle via an upgraded 15A Australian wall socket. 5m long.
RRP $549.00.
Price includes GST.
Parts Number: OC-PCD030-8A/15A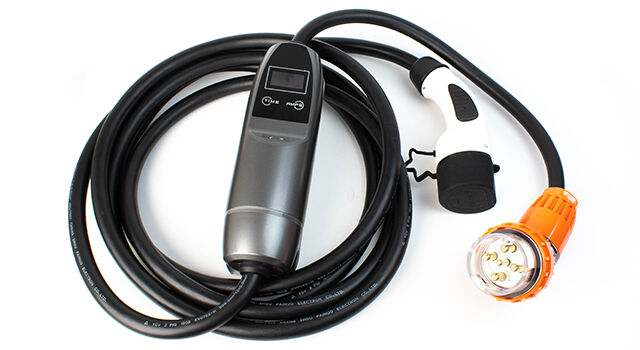 Portable 32amp charging cable -Type 2 to 5 pin[C3].
Portable Type 2 32A EV cable with Australian 5 pin plug allows you to charge your electric vehicle via a 32A Australian socket. 5m long.
RRP $1,280.
Price includes GST.
Parts Number: OC-PE-32A-3P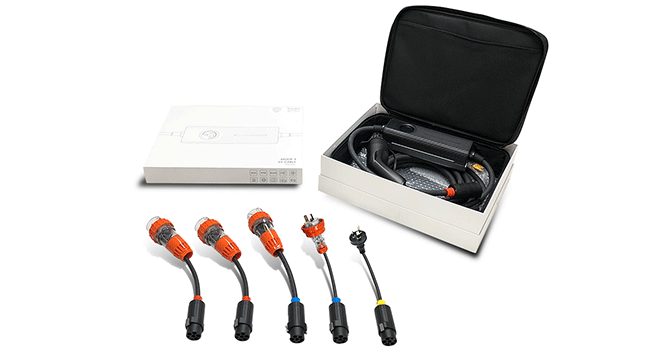 KWIK Portable Type 2 cable with Adaptable Tails[C3].
From 8A single phase through to 32A 3 phase, the KWIK Portable cable with adaptive tails supports charging across a range of powerpoints in Australia. With automatic plug recognition and an advanced touchscreen, you can securely charge with one portable charger. This bundle contains connectors for single phase 240V 10A, 15A and 32A, and three phase 415V 20A and 32A.
RRP +$1,980.
Maximum output 24 Amp (3P)
Parts Number: OC-PCD050
Explore the range.
Dynamiq

Dynamiq

Rear Wheel Drive (RWD)
168 kW / 350 Nm(Maximum total power / Maximum total torque)
614 km[P1]
77.4kWh lithium-ion battery[C1]
Conventional side mirrors
Heated front seats
18" Alloy wheels with 225 / 55 eco tyres
10-way power seats with 2-way lumbar support
Conventional roof
Bluelink & Over-The-Air (OTA) software updates[P3]
401L cargo with underfloor storage + 45L frunk
Hyundai SmartSense®[S]

Techniq

Techniq

HTRAC Dual Motor All Wheel Drive (AWD)
239 kW / 605 Nm (Maximum total power / Maximum total torque)
519 km[P1]
77.4kWh lithium-ion battery[C1]
Conventional side mirrors
Heated & ventilated front seats, heated steering wheel & rear seats
20" Alloy wheels with 245 / 40 Pirelli P Zero tyres
Relaxation mode - fully reclining front seats
Wide sunroof
Bluelink & Over-The-Air (OTA) software updates[P3]
401L cargo with underfloor storage + 14.5L frunk
Hyundai SmartSense®[S]

Epiq

Epiq

HTRAC Dual Motor All Wheel Drive (AWD)
239 kW / 605 Nm (Maximum total power / Maximum total torque)
519 km[P1]
77.4kWh lithium-ion battery[C1]
Digital Side Mirrors (DSM)
Heated & ventilated front seats, heated steering wheel & rear seats
20" Alloy wheels with 245 / 40 Pirelli P Zero tyres
Relaxation mode - fully reclining front seats
Wide sunroof
Bluelink & Over-The-Air (OTA) software updates[P3]
401L cargo with underfloor storage + 14.5L frunk
Hyundai SmartSense®[S]